new Delhi:
If you are thinking of booking a train ticket to go home in Diwali, then there is good news for you. Railways have decided to run 39 new AV trains in view of the high demand in the festive season.
Railways have approved these 39 new trains for different zones. The list of these trains has also been released by the Ministry. According to the Railway Ministry, all 39 trains will be run in the special category only.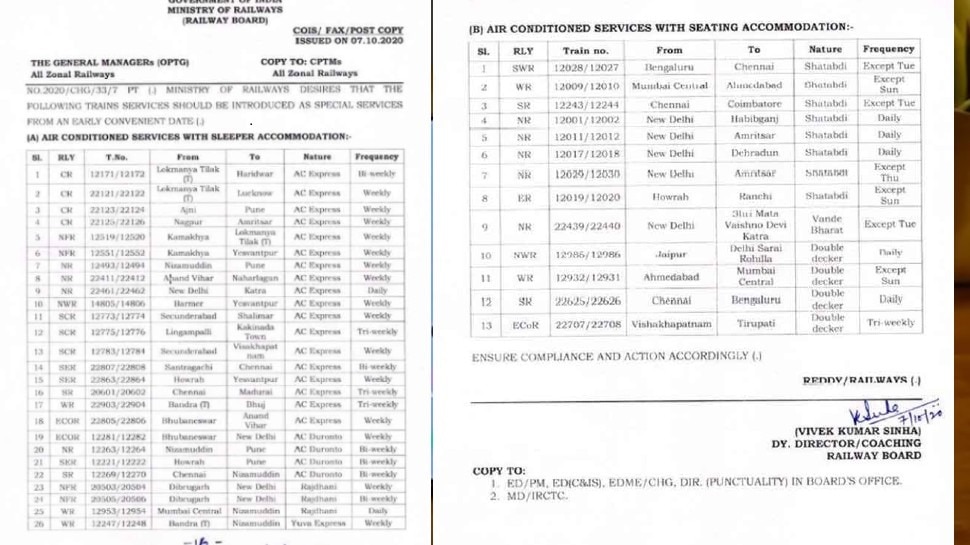 When will special trains run
It is clear from the new trains list released by the Railways that all 39 trains will be AC ​​trains. Of the 39, 26 trains are sleepers and 13 trains are seat accommodation. However, the Railways have not yet revealed when the trains will run. But, they may start in the festive season. Recently, the Railways had announced that 200 special trains will also be run between October 15 and November 30 in the festive season. These 39 trains can also be included in the same category.
Many special trains are already running
Railways have canceled all the normal passenger trains indefinitely at present. These trains are canceled from 22 March. Some special trains have been started operating gradually from May. Railways started operating 15 pairs of special Rajdhani trains connecting Delhi to different parts of the country from May 12. At the same time, 100 pairs of long distance trains started operating from June 1. The railway has also been running 80 additional trains since September 12, which have been named clone trains. From October 10 onwards, 9 pair clone trains will be run.
Special train will run for Durga Puja
Railways have decided to run a superfast AC special train between New Delhi and Sealdah for the convenience of passengers on Durga Puja. This train will run via Dankuni. This train will run from Sealdah from October 12 and daily from New Delhi from October 13. This train will be fully reserved. It will have first AC, AC 2 tier, AC 3 tier, sleeper and reserved second seating.
Tejas will also run from 17 October
IRCTC has announced the resumption of private 'Tejas' trains from October 17. Tejas's Lucknow-New Delhi and Ahmedabad-Mumbai services were stopped 7 months ago due to the Kovid 19 epidemic. IRCTC has issued guidelines for passengers and train staff regarding the re-operation of Tejas trains.
VIDEO